Choosing the right door system and company? Invisi Gard vs
Invisi-Gard and other similar brands are a system of building a stainless steel security door  that meet a security requirement.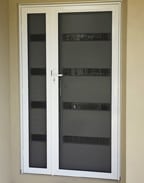 Some systems use 316 Marine Grade High Tensile Stainless, others use 304 Stainless. We have even come across doors made using Galvanised Steel mesh sold as Stainless Steel that in our opinion would not meet security standards.
The security door industry is saturated with door companies claiming the BEST & STRONGEST system with big marketing budgets leading the public to believe that their system is the best and most secure, the truth is there is a Legal requirement in WA to adhere to and if a company claims their product to be "security" then it has had to have gone through testing that simulates an attempted break-in. The company also is required to be licensed and so are the consultants and installers.
So when choosing a security company in Perth be sure to ask…
1) Is the company licensed to sell Security Products?
2) Are the consultants & installers licenced and Police cleared?
3) Have the doors/screens passed all relevant Australian Standards?
316 vs 304
316 has a better corrosion resistance than 304 as 316 contains molybdenum, strength is almost identical. In our opinion 316 is far better in Perth conditions, 304 stainless is generally cheaper.
EGP, Screwed, Riveted or adhesive
This is probably more important than the type of stainless used as this is what holds the mesh in the frame. The most important aspect to look for when joining stainless and aluminium (the frame) is that there is no contact between the steel and aluminium either directly or with the use of a fixing as this can in some circumstances cause a re-action called Galvanic Corrosion between dissimilar metals.
3 Point Locking Lockwood, Austral or Doric
In our opinion ASSA ABLOY the parent company behind Lockwood and Whitco are the market leaders in security door hardware, they can be a little more expensive but as an experienced Security Company we know you cannot skimp on the Lock itself as this is the item designed to unlock the door.
When comparing products you have to take into account the system, locks, cylinders, frame type, how it will be installed, the warranty and the after sales. We advise to get 3 quotes, then do your research on the product and the company.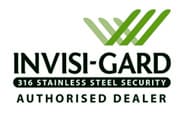 What system do we use and why?
We choose to use the INVISI-GARD system because it uses High Tensile 316 Stainless Steel sourced from a quality supplier, it also uses the EGP retention system so the aluminium and steel are never in contact and comes with a 15 Year warranty. Coupled with Lockwood/Whitco locks and quality cylinders we can offer what we believe to be the best, strongest, most corrosion resistant product on the market at the best price. We have found Invisi Gard vs other similar systems is the best option all round.
KNA Security are licensed by the WA Police, are Authorised Invisi-Gard Dealers and have built a strong reputation for providing top quality products and service to Perth.
For more information contact us here.