Why KNA Security?
With a solid reputation for providing quality products and exceptional customer service, KNA Security have become the number one choice in Perth in our industry.
QUALITY
POLICE CLEARED
DURABILITY
EXPERIENCE
FAMILY OWNED
MADE IN WA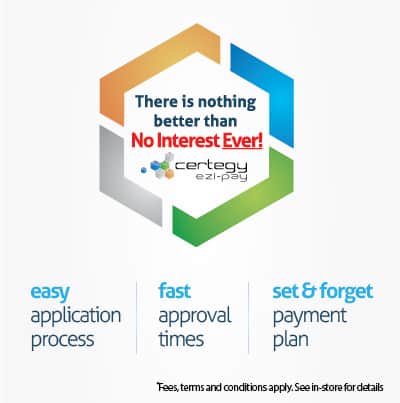 Huge Range of Security Screens Perth
Number 1 in Repeat and Referral Customer Satisfaction
Security doors & screens provide more than just security. They give you a way to securely leave doors and windows open for airflow, they are pet proof and durable.
KNA are one of the few security screen companies that manufacturer screen doors and windows in WA, because of this you are dealing factory direct.
We have complete control from measure to fit, all our employees are licenced and we are fully insured for your peace of mind.
With one of the largest ranges we have a security screen to fit your budget and home.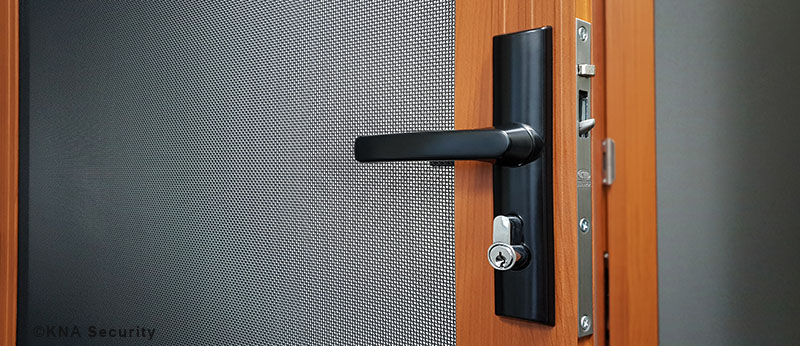 Why choose KNA Security for your security screen doors?
KNA Security is a leading supplier of hinged and sliding security doors Perth.
All of our security screens doors are manufactured right here in Western Australia and are specifically designed to withstand our harsh coastal weather conditions. Furthermore, all security screens are made to meet and exceed the Australian Security Standards which include impact, knife and jemmy testing.
Our security doors are custom made-to-measure in a quality-controlled Perth factory.
This process allows you to have your security door installed quickly and perfectly fitted.
Having one of the largest ranges of security screen doors available means we can cater to every budget without compromise. We even have interest free* set and forget payment plans to make securing your home even easier.
About KNA Security
We are proud to be one of Perth's most trusted security screen companies. We give people what they want at a competitive price and we continue to provide high-quality service long after the product is fitted. With confidence in our product and service and our clear communication you'll never receive a pressure sell from us.
It sounds fairly simple in words, but actually doing it is what sets us apart from our competition and it's what had got us where we are today. Following this blueprint has created a huge flow-on effect. Our customers recommend us to family, friends and online – this is what builds our business. We encourage everyone to search any review site or social media platform and read our customer's reviews.
We're not a company that is happy to just pass Australian standards, we consider these a starting point. We've set our standards higher and test our security screen doors annually by putting them through impact tests that exceed the Australian standards by up to 20 times!
We're also a complete security solutions company and can supply you with CCTV, alarms and security roller shutters.
"Doing the right thing by our clients isn't rocket science and it is what has built KNA Security Screens Perth to where it is today."
KNA Security Founder, Wayne Wright
Why install security screens?
Every year in WA, almost 30,000 homes are broken into and surprisingly this is more than 50% more than the national average per capita.
The most popular items stolen include jewellery, laptops and mobile phones. Items that are most precious or hold important personal information.
The days of the flimsy old fly screens are over, they offer no deterrent for would-be criminals. You need to protect your home with the strongest and most reliable security screens on the market.
Security screen doors have also come a long way in terms of decorative appeal. AT KNA Security, we have hundreds of powder coat colours and timber look frames that will not only compliment your home in terms or colour, they will actually add an element of style.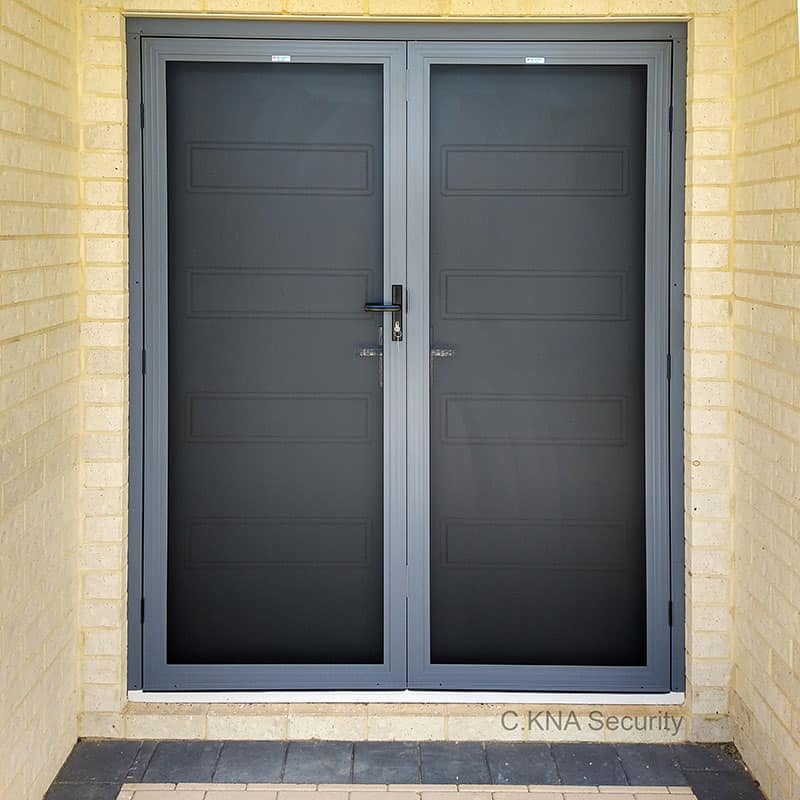 What is KNA Security's secret weapons on crime?
Whilst most companies have only one residential stainless steel security screen system that passes Australian Standards, we have three.
These include:
Invisi-Gard – This is the absolute premium in security screens and comes backed by a fifteen-year warranty. Using a superior grade stainless steel mesh, we are able to produce a security screen that looks great, is highly secure and corrosion resistant. Invisi-Gard is also well suited for larger screens that require more structural strength. This product passes and exceeds Australian Standards.
Invisi-Maxx – A commercial style frame that is designed to withstand severe weather. It has the largest gauge frame of our range and can be used in category 4 cyclone areas. It will offer maximum impact protection from wind-borne debris and can protect your premises in wind speeds of up to 356km/hr. It is well suited for extremely large doors or sliding doors.
We also offer three aluminium mesh security systems and a grille system. Grille security screens, like the popular Diamond Grille, provide a barrier against intruders and bugs and can be custom made to suit any hinged doors, sliding screen doors or windows.
Whilst the main focus of our security screens is the screen itself, we also take a lot of care to ensure our security screen locks are of premium quality. Locks are often forgotten about during the buying process, but a cheap lock will succumb to wear and tear much quicker and will no doubt cause plenty of frustration.
Our locks are made by Swedish Lock manufacturer Assa Abloy. Not only is Assa Abloy the world's largest lock manufacturer by sales volume, it is also the parent company behind Lockwood, Whitco and many other brands.
Security Screen Configurations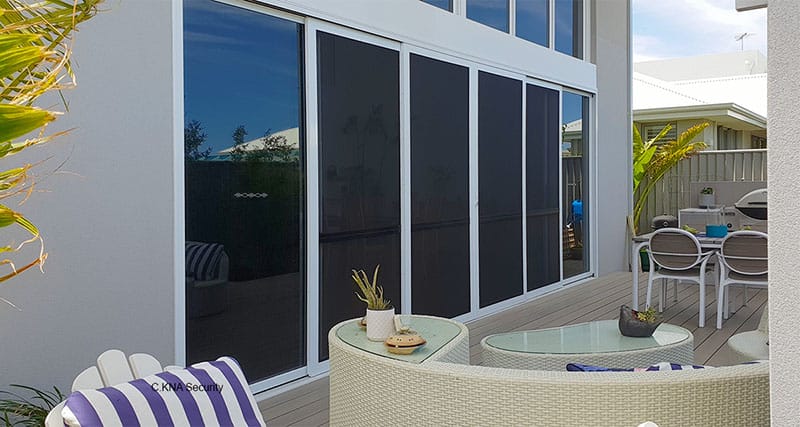 There are a number of layout options to consider when installing a security screen door.
Choosing the right option will all depend on the design of your home and your own personal preference. The standard configurations include hinged doors, sliding doors, double doors and stacking doors.
Window screens are available as fixed and fire escape.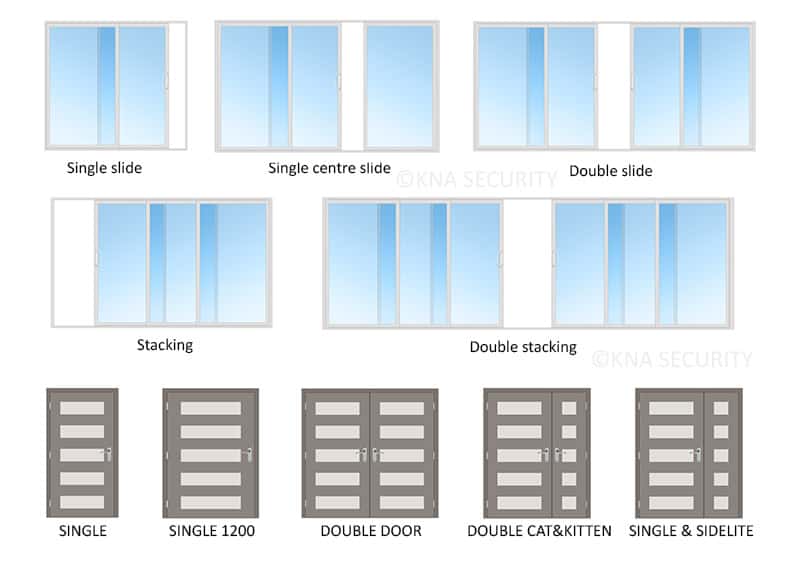 Security Screen Pricing
The price of your security screen is determined by a number of factors. These include type, colour, configuration, size and whether any framing is required.
As you will see below, a higher security rating or any additions like framing will attract a higher price.
To get a more in-depth description of our pricing and specifications for each security screen, see the Security Door Prices section.
Choose which KNA Security screen is best for you.
Invisi-Gard – Premium security, maximum airflow and light.

Mesh
316T Stainless Steel
Warranty
15 years*
Price
From $759 (inc GST)
Invisi-Maxx – Highest grade security, designed for cyclonic conditions, maximum airflow and light.

Mesh
316T Stainless Steel .8 or 1mm
Warranty
15 years*
Price
From $949 (inc GST)
Alu-Gard – High security, affordable, modern design, offers good privacy.

Mesh
6063 Aluminium
Warranty
7 years*
Price
From $662 (inc GST)
Alu-Gard Edge – High security, good privacy, fitted in a stylish frame with no visible fixings on the front or rear face.

Mesh
6063 Aluminium
Warranty
7 years*
Price
From $710 (inc GST)
Outlook – High security, good privacy.

Strength
6063 Aluminium
Warranty
7 years*
Price
From $655 (inc GST)
Classic Grille – Affordable, offers multiple options for standard flywire, petmesh or privacy mesh.

Warranty
7 years*
Price
From $493 (inc GST)
The team at KNA Security have been in the doors and window industry for over 20 years. Whilst we feel lucky that we've enjoyed success, we know it's not just luck. We work hard to ensure our products meet, and exceed, industry standards.
When you decide it's time to buy, make sure you choose a security screen that is designed to handle Perth's harsh coastal weather conditions and that all parts of your screen, including the locks, are of premium standard.
To find out what our customers are saying about KNA Security, visit our facebook page or one of the many review sites online.
FAQs