SECURITY DOOR PRICES PERTH

Security Door Prices Perth, - How Much Do Security Screens Cost?
KNA has always prided itself on being honest, open and transparent. With this, we believe having a page dedicated to pricing on the latest security products is an indispensable tool for potential clients.
SCREEN DOOR TYPES

Screen doors come in an array of different sizes and types. Frames will differ between companies and systems, how the mesh is held, and the types of mesh. Generally, 316 Stainless steel mesh is the premium, offering better airflow, light, and security.
Perforated aluminium mesh offers better privacy and is generally cheaper while still meeting the security standards.
Security doors can be made in many different configurations including, Sliding, Hinged, Double Doors, Stacking Doors, etc.
Below is a real indication of what a quality door or window screen will cost from a Police licensed company.
SECURITY DOORS (Single Hinged / Sliding Doors)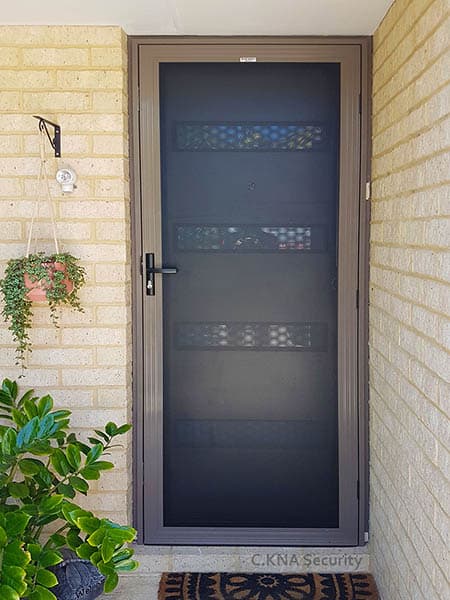 Security door prices for single screen doors in Perth can vary, as a guide (based on a standard hinged or sliding door with a size around 2100×820)…
Additional costs for framing may be applicable if needed. Examples are subframes for hinged doors or adapter frames for sliding doors.
SECURITY DOORS (Double or Stacking)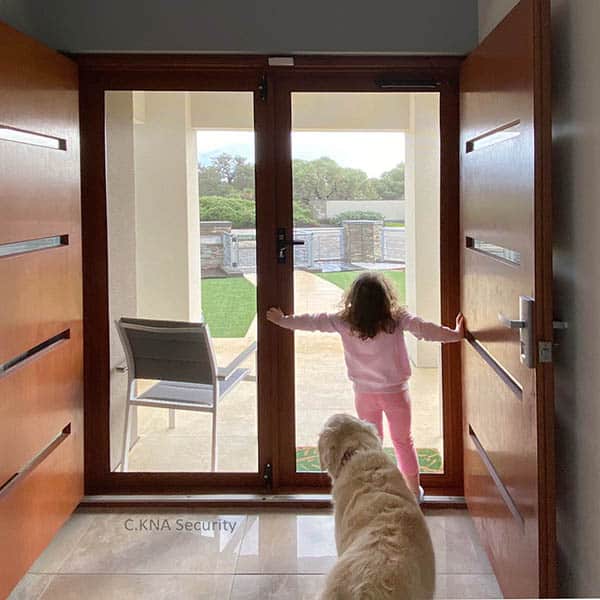 Security door prices for a double screen door in Perth can vary, as a guide (based on standard double hinged or sliding door with a size around 2100×1600)…
Grille Doors usually start at around

$1199

$1046* Installed
Out-Look Privacy Door starts at around

$1548

$1407* Installed
Alu-Gard Doors around

$1521

$1383* Installed
Alu-Gard Edge Doors around

$1580

$1437* Installed
Invisi-Gard Stainless Steel Doors around

$1749

$1590* Installed
Additional costs for framing may be applicable if needed. Examples are subframes for hinged doors or adapter frames for sliding doors.
Fly-doors start at $349 with a heavy duty frame and rollers/hinges.
Would you like a no-obligation measure and quote at no charge? then head over to our contact page.
PRICE FACTORS

The size of the security window screen or security screen door

Is framing is required?

Colour, standard colours are usually White, Magnolia, Doeskin, Black, Brown, Anotec Dark Grey, Anodic Natural (Sliver PC), Charcoal Lustre and White Lustre to name a few.

And add-ons eg, pet doors, Privacy mesh, Pet mesh, sliding door closers, etc.
*Discount price not available on 6,12,18 or 24 month plans. If under $2000 it can be paid off over 5 fortnight's using 'Humm small things'.
WOOD LOOK FINISHES NOW AVAILABLE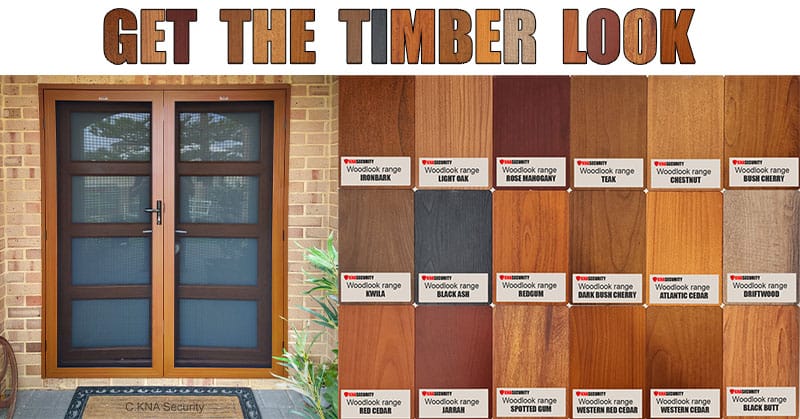 Wood-look finishes look stunning and can help to compliment the front of your home.
The security door frame and subframes can be finished in an array of different timber looks that really door look real. No fading, no cracking, no sanding, and virtually maintenance-free.
Lead times increase by approximately 7-14 days on our normal lead times (this fluctuates through the year).
Prices for timber finishes on a single security door are approx. $220inc, double doors approx. $360inc.
TRY OUR NEW SECURITY DOOR VISUALISER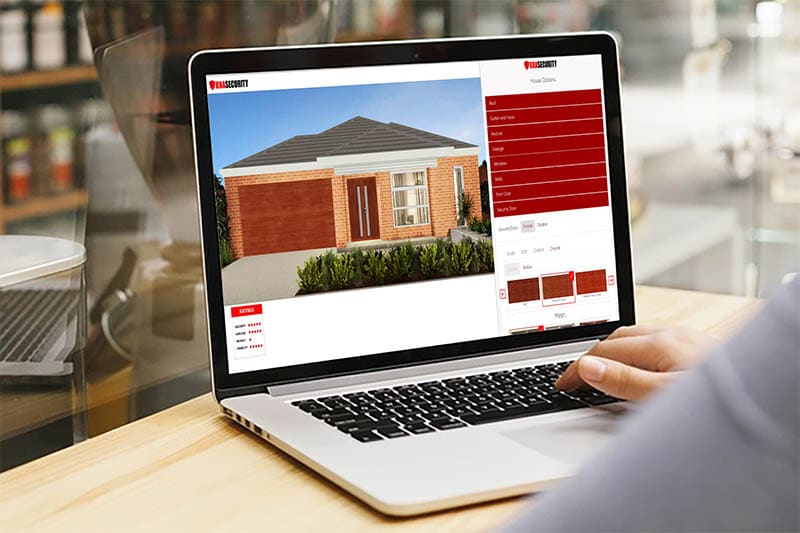 COLOUR CHART

Do Your Research
There are a few things to consider too, as with any purchase, price isn't everything especially when it comes to security.
What other hardware is being used, rollers, closers, flywire etc
Do I need a frame, if so how will it be done?
Are they rated as security to the Australian standards?
How well are they made? Ask to see a sample of sections and ask how they are put together.
Get 3 Quotes
We advise you to get 3 quotes, do research on the products and the company.
Check review sites that do not allow you to remove or pick and choose what is posted. If they have disabled all reviews on a site then be cautious.
Sites like Product Review, Facebook, or Google reviews.
KNA Security is a WA owned family business that relies on referrals and existing clients. This ensures we ALWAYS do the right thing before, during, and after the sale… it is in our best interest. And because we are one of the few actual manufacturers of security doors here in Perth and one of the only companies that research & design some of their own parts we can offer the absolute best products on the market at very competitive prices.
See some of our "real" client testimonials…
FAQs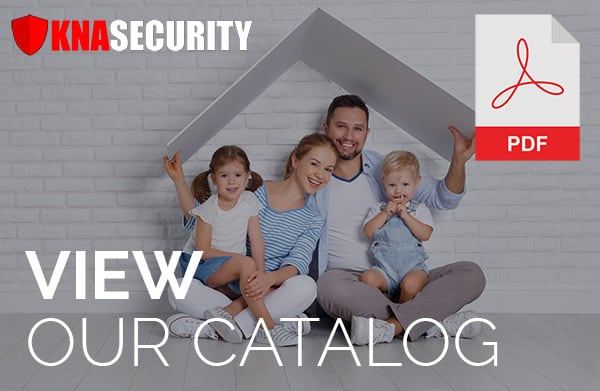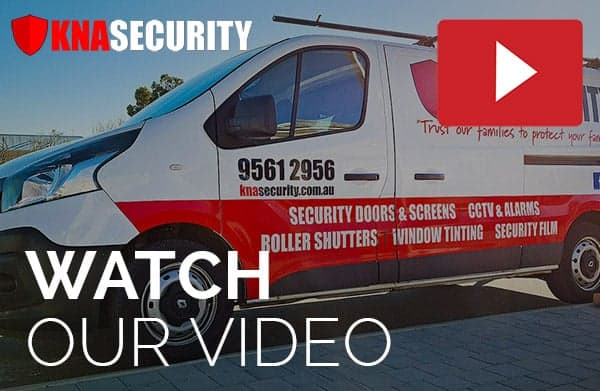 Why KNA Security?
With a solid reputation for providing quality products and exceptional customer service, KNA Security have become the number one choice in Perth in our industry.
QUALITY
POLICE CLEARED
DURABILITY
EXPERIENCE
FAMILY OWNED
MADE IN WA
Follow Us
Our Happy Customers
Interest Free Finance