TERMS & CONDITIONS
Conditions of order – updated 3rd Jan 2021
PLEASE READ THIS ALONG WITH THE WARRANTY PAGE.
-A deposit and/or signature are an acceptance of the quote and KNA Security's terms & conditions.
-Minimum deposit amount is $100, if total is less than $100 then payment in full is required.
-All goods remain the property of KNA Security until balance is paid in full.
-KNA does not issue invoices unless prior arrangements have been made with management. Your quote is your invoice too.
Deposits may be made via direct deposit to:
KNA SECURITY
ANZ
BSB: 016 246
A/C: 307 216 252.
**PLEASE USE YOUR QUOTE NUMBER AS A REFERENCE WHEN PAYING BY EFT**
-Final payments can only be made to the installer via cash or credit card (a surcharge of 1.25% applies to credit cards). If you require other payment methods, please arrange with office prior to fitting.
-Outstanding balances must be paid on installation to installer. KNA reserves the right to charge interest to overdue accounts.
-Any costs incurred in retrieving payment including but not limiting to debt collectors, courts etc will be charged to the client.
-An order will not be cancelled unless a request in writing has been received and accepted by KNA.
-You agree to the pay the full balance if the job cannot be installed due to scheduling out of our control. This comes into effect 30 days from when doors are ready for installation. The account then becomes "overdue" until paid and may incur interest.
-By going ahead with your order you understand that lead-times given are an estimate only. While KNA Security do everything they can to fulfil this estimate, there are some factors which are out of their control.
-Due to the costs involved once the material has been ordered/cut we do not offer refunds or discounts because of delays. As a small business KNA do their upmost to keep the client informed of delays and treat customer service as a priority.
Security Doors and Screens
-By accepting this quote, I understand that modifications may be necessary to allow the fitting of KNA products and that KNA is not responsible for securing or re-aligning existing frames.
-Some frames are not square and can limit us to how our doors are finished, including but not limiting to uneven gaps.
-Some doors have to be made out of square to fit neatly in your existing frame, this can sometimes mean the corner mitre joins are not always perfect. We have a tolerance for mitred corners of gaps no larger than 1mm.
– While KNA Security take all care when drilling into your existing frames, tiles, render, brick or any other surface we will not be held responsible for any damage or marks caused.
– Any alterations to the area being fitted to can affect the fitting of products. If the product has been made and does not fit due to this a charge will be applied to rectify if needed.
– Colour choices are the responsibility of the client. Our consultants can suggest options but it is your responsibility to ensure you are happy with the colour or that the colours written on your quote are the same as the colours on your home if you are matching. Colours also may vary slightly from samples and from section to section due to batch powder-coating and suppliers of particular section.
– Black is the standard colour used for all Non-standard colours. This applies to (but not limited to) locks, closers, fixings etc. If you would like substitute standard colour please advise prior to going ahead with the order.
– Having a Pet door installed will make a security not "rate" as a security door.
– Pet door sizes are the responsibility of the owner, while KNA will help with sizing the decision is on the owner.
– If a Pet door is installed and the pet cannot or will not use the door we cannot be held responsible.
-By accepting this quote I understand that packing maybe required to allow the fitting of our products due to existing frames.
-I am aware that an emergency escape from these premises may be required and have planned accordingly.
-The products supplied by KNA carry a limited 7 year guarantee against faulty materials (15 years to Invisi-Gard products) to doors and screens, and a 2 year guarantee against faulty workmanship.
-Hardware carries a 2 year guarantee excluding Flywire and Rollers.
-No guarantee will be given against misuse, abuse, accidental damage, poor maintenance or depreciation of these materials and products.
How to read your quote.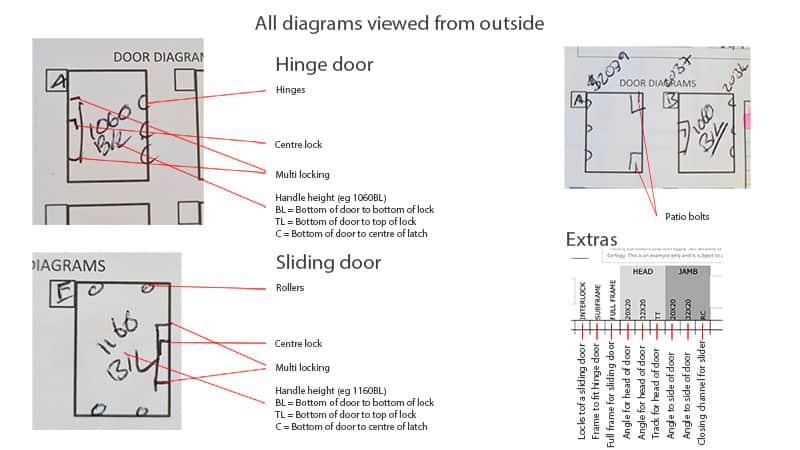 -I am aware that a regular maintenance schedule is required to maintain these products. Warranty and care page can be found here https://www.knasecurity.com.au/security-screens-perth/warranty-care-maintenance/
Glass Doors & Windows
When Installing new Windows & Doors
All care is always taken when removing the existing frames however KNA Security will not be responsible to carry out repairs to any of the existing if damaged. This includes the below but is not limited to.
*The removal of the existing windows and/or doors can cause damage to the existing paint work, eve sheets, internal plaster and/or external finishes such as rendering.
*Some existing frames have a lip on the bottom/sides of the frame so when removing the frames, loss of or damage to tiling/timber flooring may occur.
*Existing window treatments that may need to be removed & refitted.
*Any unforeseen structure/cosmetic issue that may occur once existing frames have been removed.
*Re-fitting of any timber sills & skirting may need to be undertaken by others.
*KNA Security does not disconnect or reconnect any Electrical or Alarms.
Standard Installation Practise
*KNA Security insert treated pine blocks into the cavity by wedging into place & applying no more nails, we then
screw through the jamb of the new window/door into the blocks – Screw heads are visible.
*The frames are installed to the previous outside line, PLEASE NOTE: The width of the new frames maybe smaller
than the previous frames, any extension of plaster, tiles, timber or carpet to meet up to the new frames is down to
others.
*An external silicone seal or internal no more gaps seal may be applied.
Alarms and CCTV
-I understand what I am being quoted
-I have researched the CCTV and am aware of a demo unit at the showroom.
-I fully understand the limitations of the technology of the products being installed.
-I understand that CCTV image quality is heavily based on light, distance, angle and many other factors.
-Third party services including but not limited to Ultra Connect, Hik Connect and EZview are not maintained by KNA Security. As such we have no control over these systems once set up.
Once we have set these apps up onsite we cannot be responsible for downtime, system crashes, connecting new phones, apps not functioning, connecting issues and anything else not to do with hardware. If you require a technician to assist with these a call out fee applies.
-Alarms and CCTV carry a limited 2 year warranty on hardware and install.
Tinting and protective films
-Although all care is taken to give a flawless finish, its near impossible to keep all airborne particles away from glass when installing.
For more information on this please see this link. https://www.wfaanz.org.au/wp-content/uploads/2020/02/WFAANZ-Fact-Sheet-cleaning-window-film-N.pdf
-You may see some small air/water bubbles while the curing process takes place, this can take anywhere between 2-12weeks (sometimes longer) depending on film thickness, climate and other factors.
For information on this please see this link. https://www.wfaanz.org.au/wp-content/uploads/2020/02/WFAANZ-Fact-Sheet-drying-time-N.pdf
-We try to keep gaps on the edge at a minimum but some gaps are required to stop creases appearing.
-There is a limited lifetime warranty applied to the product and 12 month on labour and installation see in store or online for details.
-Guidelines for assessing tinting can be found here http://www.iwfa.com/professional/ProfessionalResources/VisualQualityStandard.aspx or in store.
-In the rare occurrence of thermal stress cracking as explained at the time of quoting, please be aware KNA Security Pty Ltd accept no responsibility. Information on thermal cracking can be found on the AGGA website.
Service calls that are found not to be found the fault of product or installation are subject to our standard callout fees.
Roller Shutters
Roller shutters come with a 10 year warranty (1 year on manual shutters). No warranty will be given against misuse, abuse, accidental damage, poor maintenance or depreciation of these materials and products.
Motors are covered by a limited 5 year warranty.
In very high winds where shutter can flex we advise to have the shutter up to reduce the chance of it flexing too much. This usually only required on larger surface areas.
Keep your shutter clean. Not keeping your shutter clean can reduce the life of the shutter.
Due to the need of contractors such as electricians, pricing is always subject to their site check in case of any unforeseen circumstances.
Warranty and care, please take time to read the warranty page before going ahead with your order.
https://knasecurity.com.au/security-screens-perth/warranty-care-maintenance/
Quote valid for 30 days
*** All services to roller shutters whether warranty or not carry a callout fee of $160 inc GST, your parts and labour are still covered if under warranty. This is due to the fact we have to use contractors/electricians.***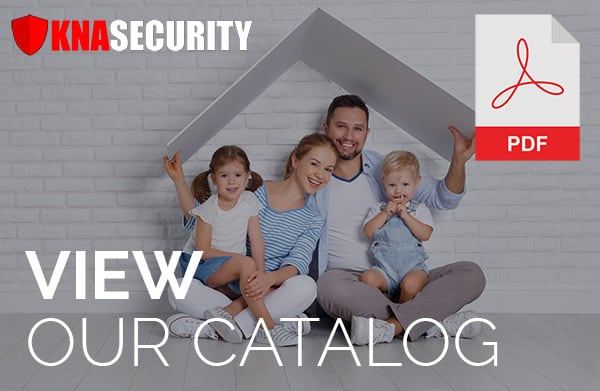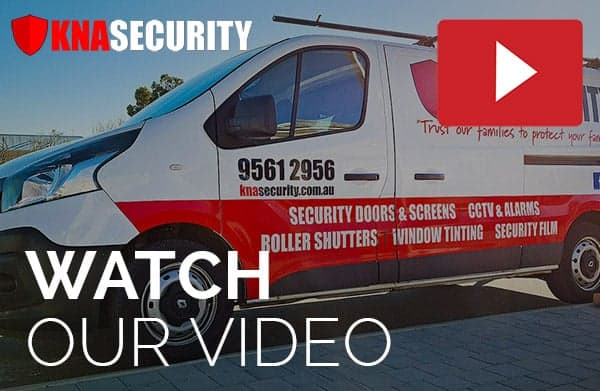 Why KNA Security?
With a solid reputation for providing quality products and exceptional customer service, KNA Security have become the number one choice in Perth in our industry.
QUALITY
POLICE CLEARED
DURABILITY
EXPERIENCE
FAMILY OWNED
MADE IN WA
Follow Us
Our Happy Customers
Interest Free Finance