InvisiGard vs Crimsafe classic
So you've narrowed down your security door options to InvisiGard vs Crimsafe… Now you need to decide on which option will be best for your individual home or business.
Well you're in the right place – here is a breakdown of the main differences between InvisiGard vs Crimsafe security doors and windows –
This comparison is comparing InvisiGard and Crimsafe Classic. Information has been taken from crimsafe.com.au and invisi-gard.com.au. KNA security is an Authorised InvisiGard dealer and not affiliated with Crimsafe in anyway.
Mesh
Both InvisiGard and Crimsafe security doors are made from stainless steel mesh. InvisiGard doors consist of 316 High Tensile Stainless Steel Mesh, whereas Crimsafe mesh is made from 304 Structural Grade High Tensile Mesh.
Both options are extremely strong and durable. So what's the difference in material? 304 grade stainless steel contains 18% chromium and 8% nickel while 316 stainless steel contains 16% chromium, 10% nickel and 2% molybdenum. Adding molybdenum helps resist corrosion to chlorides (like sea water). This is particularly important for homes and businesses that are located in coastal areas, where salty air can cause the steel to corrode.
(Image Invisi-Gard, timber look frame, Lockwood 8654 Lock)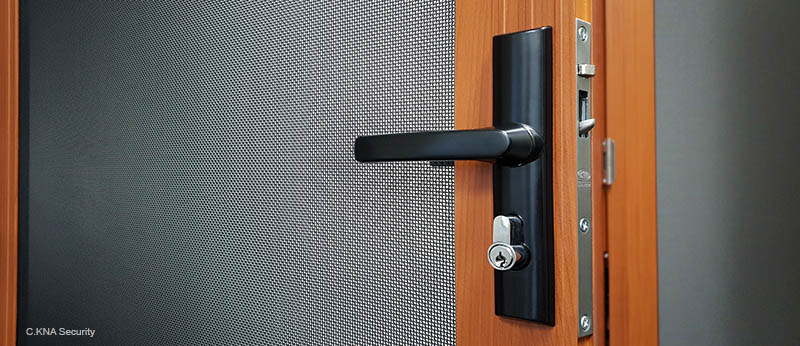 Frame
Both Crimsafe and InvisiGard use a strong aluminium frame that can be powder-coated to many different colours.
Hardware
InvisiGard doors come with either an Austral or Lockwood lock. Crimsafe doors generally come with an Austral lock. Both manufacturers use fixed pin security hinges, screen door closers and subframes where needed.
Warranty
InvisiGard comes with a 15 year standard warranty on the frame and mesh as opposed to 10 years (can be extended to 12 years) from Crimsafe.
Locks, hinges and handles are generally accompanied by warranties from the supplier and/or manufacturer of that product.
Mesh securing method
InvisiGard security doors and windows incorporate the Patented EGP (Extreme Grip Protection) which locks the 316 Marine Grade Stainless Steel Mesh into the Heavy Duty Extruded Aluminium perimeter framing. The EGP system ensures that the aluminium and steel do not come into contact which is another important feature in regards to corrosion. This fixing method also exceeds Australian Standards.
Crimsafe fix the mesh via anti tamper screws which goes through the frame and mesh, this securely clamps the mesh to the frame (Carbon Fibre CF6 Screw-Clamp™ technology). This also exceeds the Australian standards.
Fall Prevention
InvisiGard and Crimsafe security windows are tested and compliant for Fall Prevention from the National Construction Code for the Protection of Openable Windows. The fall prevention screen enables windows to be opened more than 125mm to maximise ventilation.
InvisiGard vs Crimsafe – Summary
It's important to note that both InvisiGard and Crimsafe security doors and windows are available in a range of different models eg InvisiMaxx and Crimsafe Ultimate. Make sure you check the specifications of the particular model that you are looking to buy before you make a decision. Both options meet and/or exceed Australian Standards, are extremely strong, well respected companies and are a good choice for securing your home.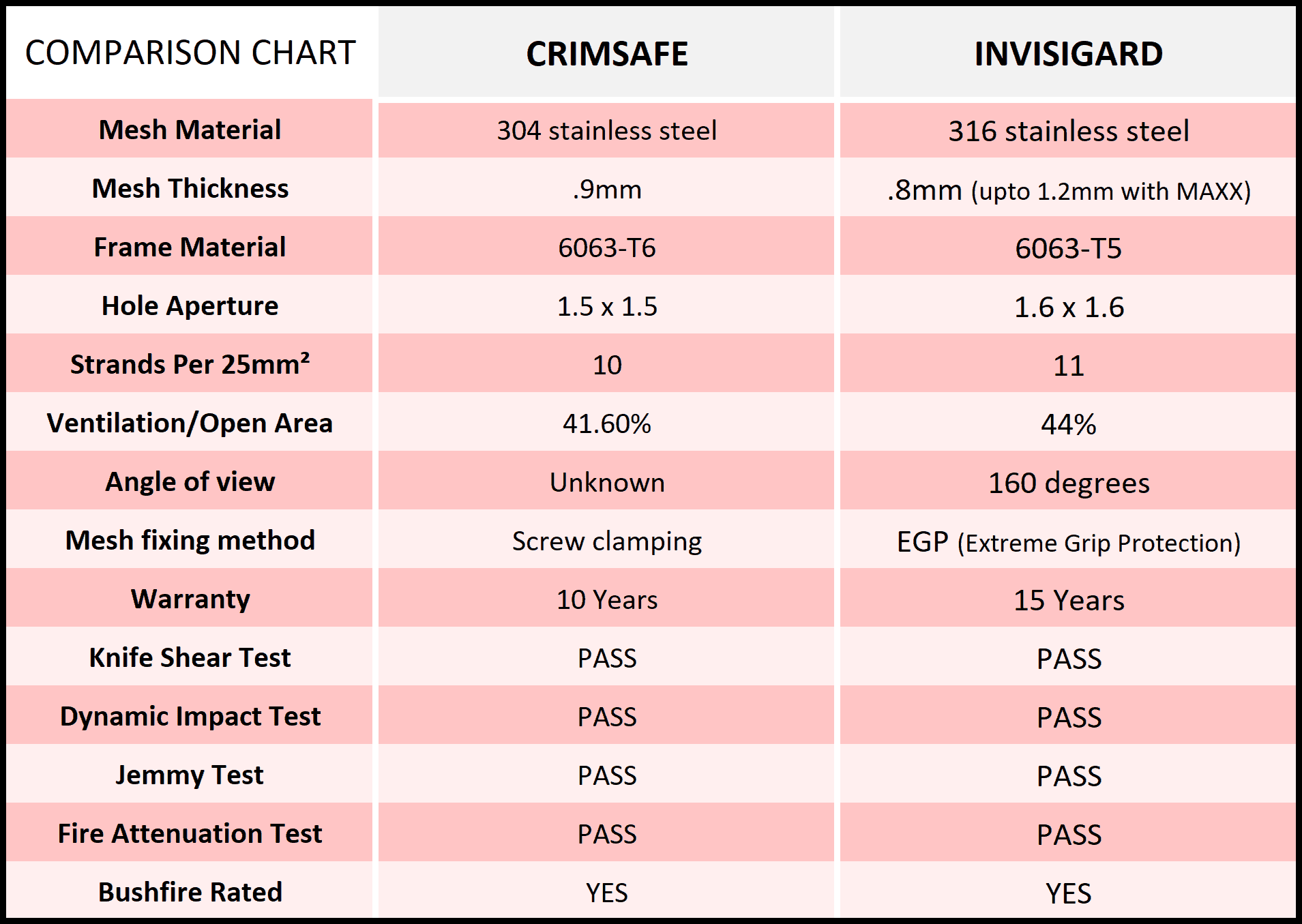 All information was collated at time of post.
InvisiGard Doors from KNA Security
KNA Security are a fully qualified and experienced authorised dealer of InvisiGard. Servicing the northern suburbs of Perth, we offer interest free finance and personalised customer service.
If you're interested in learning more about the industry leading range of InvisiGard security doors and windows get in touch with KNA Security today to schedule a free measure and quote at your home or business.