At KNA Security, we endeavour to make it as easy as possible for you to secure a security door quote. In doing so, we also want to ensure that you receive the best solution to suit your individual requirements and that all of your questions are answered at every stage of the process.
So here is a detailed run-down of our quoting process…
1) Service Area
Before you get started, it's important to make sure that your home or business is located within our service area. If you're based anywhere between Perth and Lancelin, and as far East as Gingin, we encourage you to get in touch today.
2) Get in Touch / Request a Quote
If you'd like to have a chat or ask us a question you can call 9561 2956 or email info@knasecurity.com.au – we'll be happy to answer any questions you may have.
Alternatively, you can fill out our convenient online form to schedule an obligation-free onsite measure and quote.
3) Qualifications & Lead Time
At KNA, we guarantee that you won't deal with a pushy salesperson. Your quote will be provided by a licensed and qualified installer who will take the time to understand your requirements and offer the best solution tailored to your individual needs.
We hold 3 current security installer licenses and 3 security consultant licenses so you can rest assured that you're dealing with a professional. This does however mean that you may need to wait up to 4 weeks to receive an onsite quote during busy periods.
4) Free Onsite Measure & Quote
We'll begin by having an informal chat to understand why you have engaged KNA to provide a security door quote. With so many types, colours and styles of security doors to choose from, it's important that we take the time to understand your requirements.
Following this, we will measure your doorway or entrance. Our security doors are custom made in our Perth warehouse and can therefore be made to just about any size you require.
Lastly, we will provide an expert recommendation in regards to the best style, type and colour of security door to meet your requirements. If you're happy with our recommendation, you'll then receive a detailed security door quote in writing with a break-down of your costs and no hidden fees.
5) Finance Options
We understand that you won't always have the cash flow to pay for your new security door quote upfront. That's why we can offer a NO INTEREST EVER finance plan from our third party provider Humm.
If you're not familiar with Humm, KNA Security can arrange your finance plan upon purchasing a new product and approvals are instant when you qualify.
Please note that lending criteria, fees, terms and conditions apply – Click here to learn more.
6) Accepting Your Quote / Installation
Once you're ready to accept your security door quote, you can contact Simone on 9561 2956 (Monday to Friday 8am – 4pm) or at reception@knasecurity.com.au to get started.
Upon receiving your deposit payment, Simone will then be in touch to schedule a date and time for installation.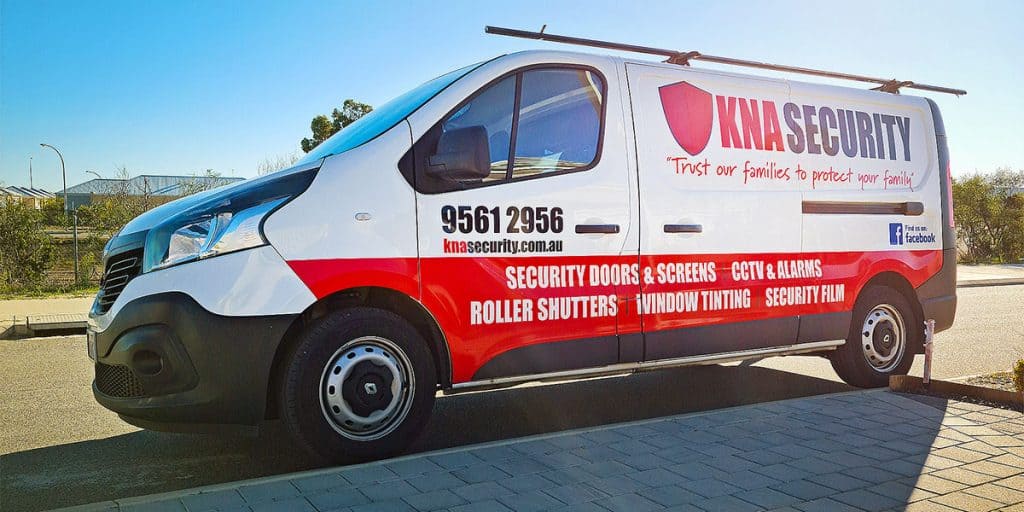 Security Door Quotes from KNA Security
So what do you have to lose? Our quotes are obligation-free and will only take up to an hour of your time in the comfort of your own home or business. Get in touch today to get the ball rolling…