Whether you're a homeowner with a family or even if you're a business owner, there's always a need to secure your property against intruders. One of the most effective ways to do so is by installing strong and durable security shutters on your doors and windows.
Shutters provide a visible barrier between your property and any would-be intruders, and also reduce the chances of a break-in should an intruder try to enter through a window or door.
In addition to security, shutters can also create privacy, reduce your energy consumption and protect your family from the elements and outside noise.
Security Shutters – Benefits Explained
Block Out Heat & Save on Energy
In addition to the obvious security benefits, shutters also offer the ability to block out the heat or cold. This allows you to reduce your energy consumption and save on power bills.
Create Shade
You may be relaxing and watching TV or trying to entertain guests within your home. Either way, sun rays entering your home can not only be annoying but cause harmful damage to your skin and eyes. With the option to leave the shutters partially closed, they can create the perfect amount of shade, no matter what time of the day.
Noise Reduction
Whether you live in a new estate with constant noise from construction, or you have a noisy neighbour who likes to play loud music, security shutters can block out some of the outside noise. This is particularly handy if you're a shift worker or have young children who are trying to sleep during the day.
Create Privacy
You may live in an apartment block, duplex or small property with surrounding neighbours, we all need our privacy at times. Windows shutters allow you to easily create a privacy barrier between the inside of your home and people attempting to look inside.
Save on Insurance
In many cases, insurance companies will offer lower premiums if your home or business is protected by roller shutters. This saving will allow you to cover the initial outlay to purchase and install the shutters in the medium to long term.
Property Value
In addition to many practical benefits, window and door shutters will also increase the value of your residential or commercial property, and make your property more appealing than others without shutters.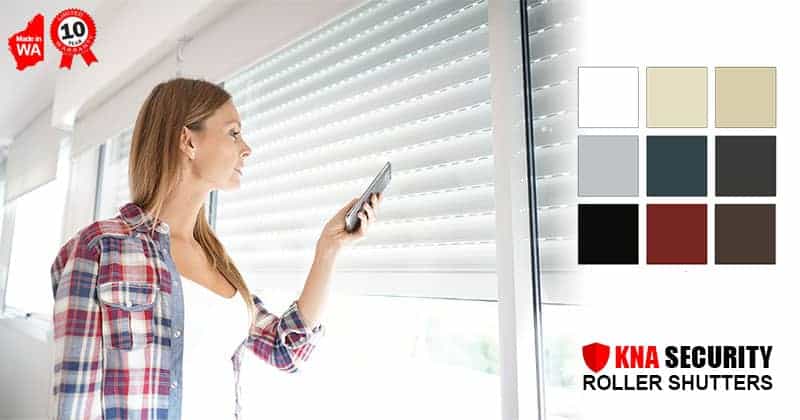 Manual or Motorised?
There are two ways that your roller shutters can be controlled:
Motorised Shutters
Operated using a motor that is controlled by a remote, motorised shutters allow you to easily adjust the height with the push of a button. They are ideal for properties with a lot of doors or windows, or those that are in 'hard to reach' places. Motorised or electric roller shutters are also more convenient for the elderly or people with mobility issues.
Manual Shutters
Manual shutters typically have an adjustable crank that allows them to be easily controlled. They are more reliable and affordable than motorised shutters and suited to properties with few doors and windows.
What Else Should I Consider?
Security shutters come in a variety of strengths, styles, sizes and colours, and can be installed on just about any window or door.
Strength & Durability
The Australian government has introduced a range of standards which allow you to compare the strength and durability of different manufacturers of security shutters. This takes away the guesswork and helps you to avoid shutters that won't offer a sufficient level of protection.
Colour Range
It's important to select a colour that will match and complement the exterior and interior of your property. Most manufacturers offer a wide range of colours to suit most homes and businesses.
Price
As always, price should be a consideration. Try to consider each of the factors above, then compare the price with the quality and benefits of each shutter.
Warranty
The product warranty will generally be dictated by the quality of product. Aim for security shutters that have a longer warranty and make sure you read the terms and conditions to avoid any unwanted surprises.
Supplier & Installer
By engaging a reputable supplier and installer that is fully insured and carries a current police clearance will avoid your chances of dodgy workmanship or customer service.
Security Shutters from KNA Security
KNA Security is a local family owned and operated company that supplies and installs high quality security shutters throughout the northern suburbs of Perth. With over 30 years of industry experience and an excellent online reputation, our shutters are backed by a 10 year warranty and available in a huge range of colours.
Contact our friendly team today to seek expert advice and arrange an obligation-free measure and quote at your home or business.