The primary function of security mesh doors is safety. Yes, you'll want to select security doors that match the look and feel of your home. Although, what good are they if they won't withstand the test of time?
So, I hear you asking… Do I need a stainless steel security door? What are the benefits?
Stainless Steels vs Milder Steels – Corrosion Resistance
"Stainless steel" is a general term which refers to a group of corrosion resistant steel alloys that consist of at least 10.5% chromium.
The chromium-rich oxide film found on stainless steel occurs near the surface of the material and allows it to have a higher resistance to corrosion when compared to milder steels. This acutely thin and invisible film adheres tightly to the metal and has the ability to self-repair when it suffers from abrasion, machining or cutting.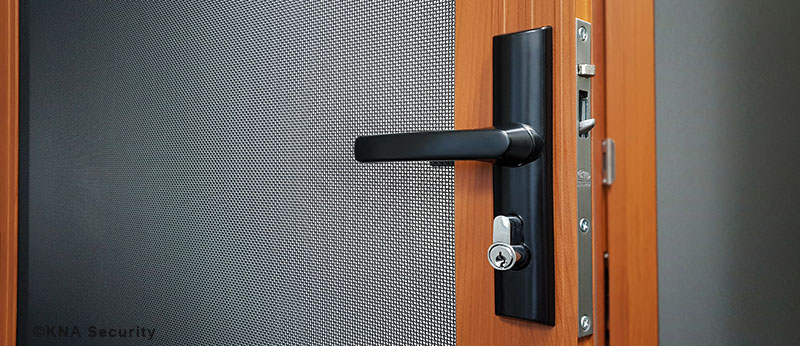 Grades of Stainless Steel
As you start to research stainless steel security mesh doors, you'll likely come across doors with either a 304 or 316 stainless steel grade. So how do they differ?
304 grade is the most common form of stainless steel security mesh doors. While still offering resistance to corrosion and good value for money, 304 grade steel can become tea stained, pitted or even start to deteriorate, particularly if your property is within 5kms of the ocean.
For this reason, 316 grade stainless steel is the preferred choice for coastal homes, commercial buildings, jetties and piers. 316 steel will resist ordinary rusting, pitting and crevice corrosion, providing you with peace of mind that your security mesh door will stand the test of time.
Invisi-Gard 316 Marine Grade Stainless Steel Mesh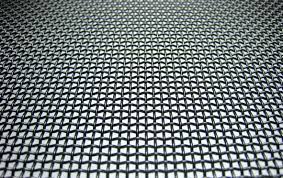 Invisi-Gard are an Australian owned and operated company who design an industry leading range of security mesh doors.
The full range of security doors from Invisi-Gard are manufactured using 316 marine grade stainless steel mesh from Meshtec. Meshtec uses high tensile stainless steel wire to braid and construct the Invisi-Gard mesh. In fact, every strand of wire is independently tested to strict international standards!
In addition to using the world's best stainless steel mesh, Invisi-Gard security doors are custom made to size, exceed all Australian standards and backed by an impressive 15 year warranty.
Security Mesh Doors from KNA Security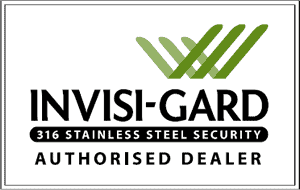 As an authorised dealer of Invisi-Gard security doors and screens, KNA Security have supplied and installed 1000's of doors throughout the northern suburbs of Perth. We invite you to check out our Facebook or Google profiles where we currently have 450+ 5 star reviews!
Select from the standard Invisi-Gard doors with 316 marine grade stainless steel mesh or their big brother – The Invisi-Maxx cyclone rated doors, which offer maximum strength, security and durability. Available in over 100 different powder coated finishes, we have a security mesh door to match any home or business.
Contact us today to schedule an obligation-free measure and quote at your home or business, from Perth to Lancelin.