In previous articles, we have detailed the well-known benefits of security screen doors and windows. From the obvious security benefits to lower energy consumption, noise reduction and privacy, you're probably quite familiar with most of these factors. But did you know that screen doors and windows have several more less-known benefits?
What Are The Other Benefits?
Here are some of the benefits of screen doors that you may not yet have considered –
Fire Protection
For those living in rural areas of Western Australia, you'll be aware of how important it is to protect your property from fire. However, fire can also be a concern in commercial or industrial areas, or even residential areas with bushland nearby.
No matter where you live or work, you may not be aware that security doors and windows can help. If this is a factor in your decision process, you'll want to consider the following –
BAL Rating
The BAL (Bushfire Attack Level) rating is defined as the ability of a product to resist fire. It is an Australian standard that is particularly relevant to homes in bushfire prone areas.
Fire Attenuation Rating
This rating measures the ability of a product to reduce radiant heat and the spread of flames, which decreases the impact or intensity of a fire. The fire attenuation rating should be a consideration for all homes and business, whether close to bushland or not.
Window Fall Protection
For homeowners with small children and openable windows that are positioned close to the ground, a security screen with window fall prevention can provide you with peace of mind that your children are safe.
Within Australia, a window security screen must be tested to meet Australian Standard AS5203-2016 Protection of openable windows. This measures the ability of the screen to withstand outward force and pressure.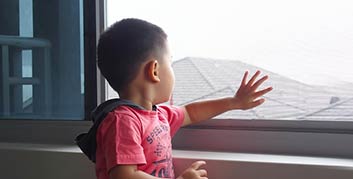 Cyclone Protection
For those who live in tropical climates, you'll also be aware of the need to protect your home or business from cyclones. To meet Australian standards for cyclone protection a door or window will undergo NATA certified testing whereby it must resist impact from debris and projectiles travelling at 35.2m/sec.
Emergency Escape
In the event of an internal fire or other emergency, you may need to escape quickly through a window screen. Some manufacturers include devices which allow you to release the screen with the press of a lever.
Invisi-Gard Screen Doors & Windows
There's a good reason that Invisi-Gard is Australia's number one manufacturer of high quality screen doors and windows:
Fire Protection
All Invisi-Gard products are rated BAL40 and boast a fire attenuation rating of 40-55% depending on the installation method. Subject to an engineer and fire certifier approval, this makes them suitable as a fire attenuation product under the National Construction Code.
Fall Protection
Invisi-Gard window screens meet the Australian Standard AS5203-2016 Protection of openable windows related to fall protection.
Cyclone Protection
The Invisi-Maxx range of screen doors are built specifically for cyclone prone areas and exceed the NATA certified testing whereby they resisted impact from debris and projectiles travelling up to 44m/sec.
Emergency Escapes
The emergency escape window screen from Invisi-Gard, Invisi-Scape allows people to release the screen and escape from a room quickly by the press of a lever. They provide options for inward or outward facing escapes and are also convenient when you need to clean windows.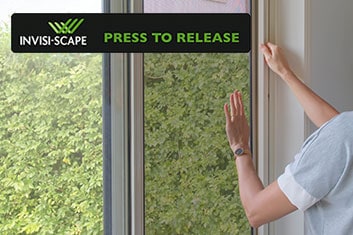 Security Doors & Windows from KNA Security
As an authorised dealer of Invisi-Gard screen doors and windows, KNA Security are your one-stop-shop for security screens, as well as alarms, roller shutters and CCTV systems. With a proven track record and excellent online reputation, you can't go wrong with KNA Security.
Contact our expert team today to schedule a measure and quote at your home or business from Perth to Lancelin.