REDUCE YOUR RISK!
Crime is on the rise.
Securing your home is all about reducing your risk, if someone really wants to get in they will. However, most burglaries are opportunistic in nature and are made through an open door, window or garage door.
Burglars are looking for the easy target, take these 3 homes for example…which one is the easy target?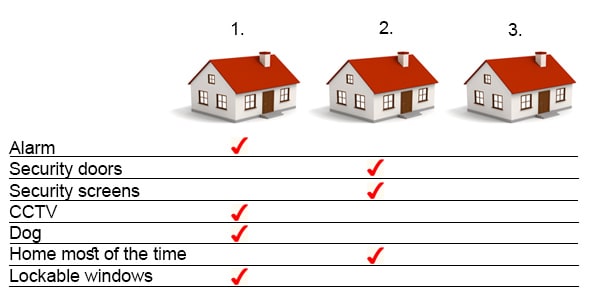 The more security measures you have in place the harder it is to break in, this is proven to reduce your chance of a burglary.
Police have confirmed lists have been recovered in raids, these lists contain information on homes that contain for example, who works all day, have no dogs, have no alarms, cctv or security doors.
Adding security to your home is a valuable investment but can become costly.
We have compiled a list of cheap or free things you can implement yourself to reduce your risk.
1 -Lock your doors and windows, even if you are going out the back yard or popping to the neighbours for a cuppa. Open doors and windows are one of the most common entry points.
2 -Move desirable objects away from visibility. Leaving a laptop or wallet on a table next to a window is just too tempting.
3 -If you have no security at the main entry think about installing a peep hole, not being able to see who is knocking on your door is a real security risk without a security door. Once you open your door there is nothing between you and that unknown person.
4 -Do not store spare keys outside unless they are secured in a lock box out of sight.
5 -Ensure your sliding doors have pin cylinder locks (the key will look similar to a front door key not a window key), or install a patio bolt.
6 -Ensure your windows don't twist in the frame when locked, anti-lift blocks should be installed to prevent this.
7 -Install an alarm box and camera, you can buy a real camera fairly cheap and install as a dummy, these are more convincing than most dummy cameras you can buy.
8 -When buying that new TV, discard the box in a way so as not to advertise the fact you have it.
9 -Don't create hiding spots around doors and windows, avoid having tall shrubs or privacy fences.
10 -If you have an alarm don't use stickers on your window saying what system you have, use a generic sticker.
11 -Know your neighbours. They can keep an eye on your home while your away, they know the area, can let you know if anything fishy is going on, and can bring in mail etc when you are away.
12 -Don't leave tools or ladders lying around for use by would be thieves.
13 -Join local social media groups, these will have valuable information on what is going on locally.
14 -Install a meterbox lock, this will prevent power being cut to your home.
If you have ticked off some of these items you will have reduced your risk.
We hope this helps, if you have any ideas you would like to share please email us at info@knasecurity.com.au