First Line of Defence
Security doors serve as the home's first line of defence against burglary. Thanks to an attractive rebate scheme provided by the State Government, a lot of seniors over the years have been able to spend on home security reinforcements and thereby keep themselves and their homes protected.
However, The West Australian state political reporter Phoebe Wearne warns that a lot of seniors may no longer be eligible for the programme following recent government reforms that affect home security rebates for seniors:
"The rebate was introduced in 2009 to give seniors up to $400 to buy security and safety devices, including home intruder alarms, deadlocks, security door screens and fire extinguishers.

Under the new criteria, only seniors whose homes have been broken into since January 1 and who have received the rebate before will be eligible for the $200 previously available to buy security screens and lighting for their homes. All seniors cardholders will still be able to apply for a rebate of up to $200 to buy a personal safety device. More than $8 million in rebates have been paid to 46,000 seniors since the scheme started."
Despite the turn of events, it is clear that seniors should prioritise key aspects of their safety and security at home. Security doors in Perth, for instance, are home security upgrades that give value for money and make for wise investments – rebates or no rebates.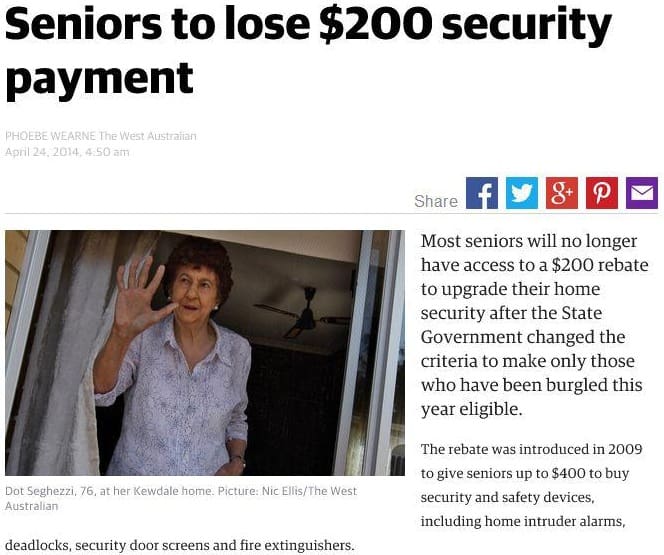 Security doors are available in various makes, though the most versatile designs happen to be stainless steel grilles and stainless steel mesh with aluminium or steel frames. These products are designed with optimum rust protection and can withstand, to a certain extent, forceful impact or intentional damage.
The best such doors also undergo strict testing in keeping with Australian Standards requirements, e.g. AS 5039. In particular, hinged and sliding security doors must have strong grilles and solid locks, and must be professionally installed using precise measurements and techniques. Although some security doors without Australian Standards label manage to meet all safety criteria, it is still better to be safe than sorry.
To resolve security concerns, seniors can turn to a reputable company such as KNA Security that offers quality solutions at reasonable rates. Licensed agents from such a company can give a rundown of the best security screen door options available to seniors. Likewise, clients can request for free estimates to get an overview of the product features and the costs involved.
(Source: Seniors to lose $200 security payment, The West Australian, April 24, 2014)