Sturdy security doors in Perth are great additions to a home's overall protection against intruders. How do you bolster them even further for maximum protection? Simple: a good, durable door lock. Clean-Organized-Family-Home.com writer Tara Aronson agrees.
"The better the lock on your home's doors, the more difficult it is for an intruder to get inside.

And the more likely he or she is to move down the block to find an easier target.

Make them have to work hard to enter your home, and chances are they'll turn their sights elsewhere for that easy payday."
There are a lot of important features to look for in a door lock, and their abundance can make it hard for the first-time buyer. Here are some of the most important things to consider when buying the best door lock to properly secure your home and your family.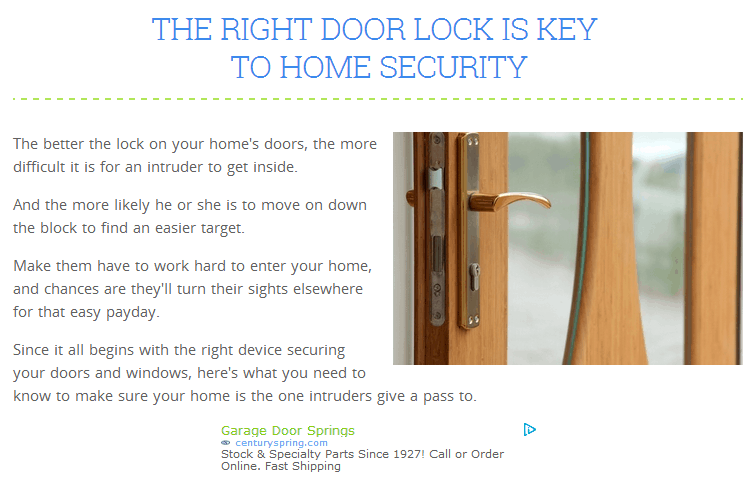 Materials and Reinforcement
The most common types of door locks are the spring-bolt and the deadbolt locks. Spring-bolt locks work by holding a pin in place using a compressed coil. Releasing the pressure on that coil will unlock the door. While it only offers limited security, a spring-bolt lock is easier installed and significantly cheaper.
On the other hand, deadbolt locks are considered the more secure of two choices. It works by effectively bolting the door itself into the frame, meaning it has to be manually moved in and out of place using a key or a knob. The mechanism essentially results into an immovable "dead" bolt, hence the name.
Entry Method
Depending on what you're trying to secure, you might consider different unlocking options such as a traditional key system or a remote entry/timed system. The conventional system is a tried-and-tested choice, but it doesn't work for everyone. Remote entry or timed systems can be excellent for some doors, allowing them to both be manually unlocked and opened yet also controlled from afar.
Picking from the aforementioned choices can be made easier with the help of an accredited locksmith in Perth and other areas. As a trained expert, a locksmith can effectively gauge a specific situation and determine which door lock would work best. For the quickest and best results, be sure to consult professionals like those from KNA Security to bolster your security door's effectiveness, and the safety of your home in general.
(Source: The Right Door Lock is Key to Home Security, Clean-Organized-Family-Home.com)