How Do Security Doors Help?
Home security is a paramount concern for both Perth homeowners and robbers who plan on stealing from them. The latter, however, have an advantage because they can pick and choose who they steal from while the latter cannot exactly pick who steals from them. With sufficient preparation, though, a person can make sure their house is difficult to break into.
Among the most important means to that end are doors. A well-made door can help hold off an intruder and discourage forced entry. The Australian police have put up a guide on their website on how to prevent burglaries, particularly how to make sure their front doors will protect them against intrusions:
"Have you fitted a door viewer so that you can see who is there? They range from a simple peep-hole viewer to a closed circuit TV camera depending on what you can afford. If you don't know who is at your door, you should connect the door chain so that the door can't be forced open. A strong security chain screwed or bolted to the door and door-jam is recommended.

A security door is also recommended. Again the door should meet Australian Standards and be of steel construction with three locking bolts for top, centre and bottom, and fitted with a dead-lock. Ideally the door mesh would be of a type that allows you to see out but visitors unable to see in. A light over the outside of the front door will allow you to see visitors in the dark."
Add Another Layer of Security
Another way to ensure a strong front door is to add another layer of defence to it. Homeowners can install security screens from Perth security professionals, thus doubling the efficiency of a security door. Forget about the image of screen doors that are made of flimsy wire mesh and wood. Modern security screen doors are tough and those available in Perth have passed Australian standards tests.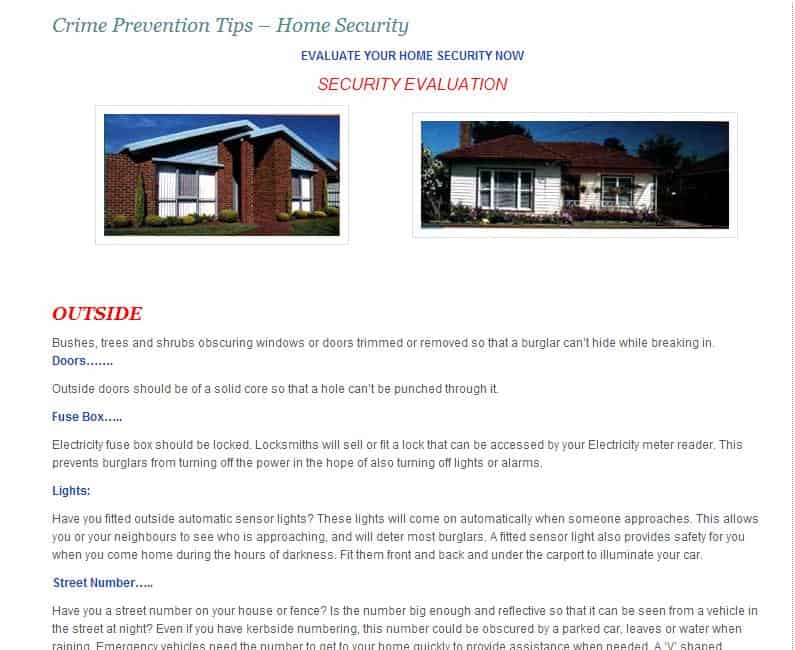 This means they have passed a dynamic impact test, which measures how much force it can handle, and a lock and hinge lever test, which determines if they can handle any attacks on their hinges.
Passing these tests assures their strength and reliability. Even better, installing security screen doors in Perth is easy because dependable services like KNA Security are there to make sure it is done properly and at reasonable prices.
(Source: Crime Prevention Tips – Home Security, undated)