There are several factors that most people overlook when trying to select the right front door security screens for their individual requirements. The strength and level of visibility are obvious factors, although what about the infill, lock and frame? Have you considered these factors as well?
Front Door Security Screens – What To Consider
Here is a quick break-down of these additional items that you need to consider when selecting the perfect front door security screens –
Infill
The infill of a security door is the material that sits within the frame. Common options include the following –
Screen Mesh
By far the most popular option within Australia, firmly woven stainless steel screen mesh infills offer high levels of visibility. Some manufacturers can also provide a privacy mesh, which allows you to see out, without the ability to see inside your home. However, most screen mesh options do not provide high levels of privacy.
For those living in coastal areas, you'll also want to consider a screen that will not corrode over time. Make sure you ask for a marine grade 316 stainless steel mesh which is resistant to corrosion.
Airflow should also be a consideration in most locations. Screen mesh fortunately offers maximum airflow without compromising on security.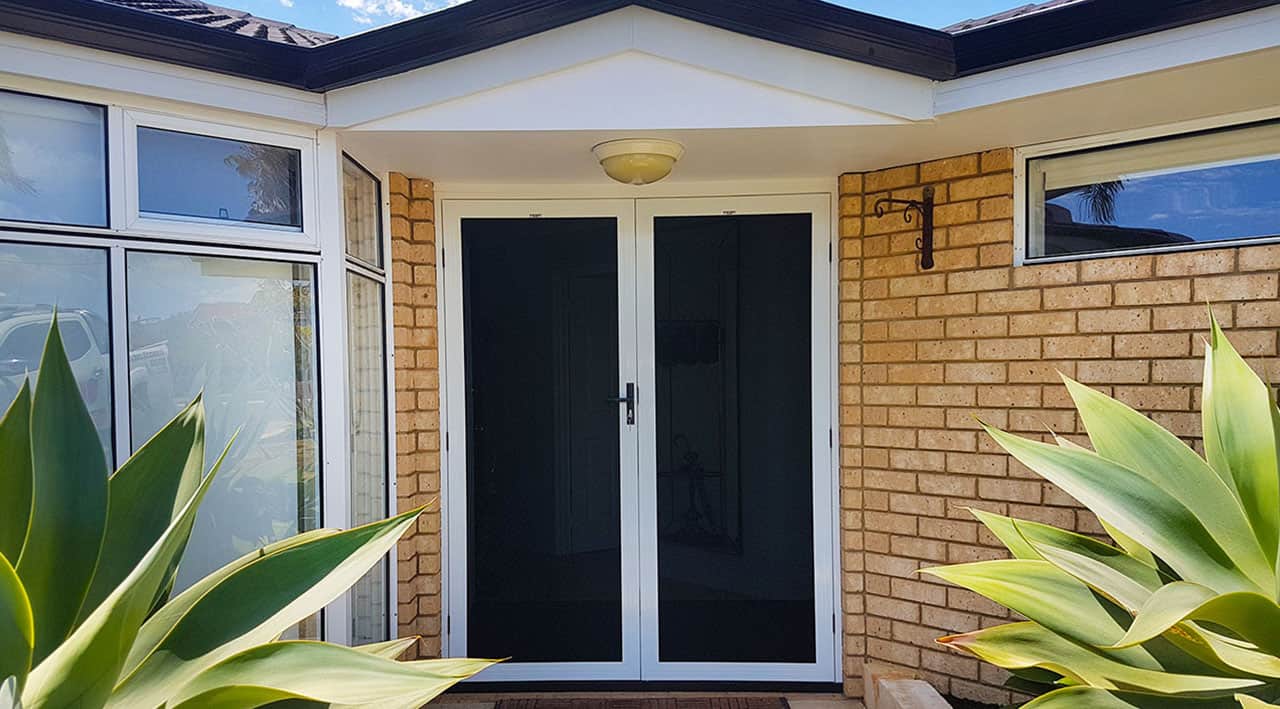 Grilles
Security grilles are also a popular option with WA homes. Because of their open design, they are generally attached to flywire which provides a barrier from insects and bugs. However, they can also be attached to a privacy mesh.
Security grille doors can be manufactured using a variety of materials, so make sure you select an option that, as a minimum, meets Australian standards.
They provide a more obvious level of protection, however some customers feel that they are not as easy on the eye when compared to security mesh. This being said, they are generally available in a wide range of colours to match just about any home. Some manufacturers even produce timber look front door security screens to match your timber frames etc.
Perforated Metal
Perforated metal front door security screens are also a great option within West Australian homes. Depending on the size of the perforations, they will offer different levels of airflow and privacy, so make sure you select an appropriate option.
You can also choose from aluminium and stainless steel options. Both varieties are typically power coated so you should have a wide variety of colours to choose from, along with timber looks. Power coasting should also make the screen resistant to corrosion.
The thickness and type of the material will dictate the strength and durability of the screen. As with all other options, make sure the screen at least meets Australian standards.
Bars
Bars are a more traditional option for front door security, and you're now more likely to find them in commercial applications.
Depending on the materials they are manufactured from, they can often provide a superior level of protection and airflow. This being said, they are typically far more expensive than their mesh and grille counterparts.
Lock
Surprisingly, most people don't put enough thought into the lock that is attached to their new front security screen door. However, this is typically the first item that a would-be intruder will attempt to break.
Firstly, make sure that the lock meets Australian standards, which state that it must include triple locking. As the name states, triple locks lock at three points which are activated by using a key or rotating the snib. They offer a far superior level of protection and cannot be levered at the bottom or top.
Just about all security door suppliers and installers will use a third party lock manufacturer. It's important to do your research and check whether the manufacturer is reputable with a solid reputation.
Frame
Although frames come in a variety of materials and styles, the factors to consider are more obvious. Make sure the frame is strong and durable, and as always passes Australian standards. Corrosion and fire resistance should also be considered in coastal or fire-prone areas.
Furthermore, you'll want to select a colour that matches the infill, along with the style and colour of your home.
Other Considerations When Selecting Front Door Security Screens
Some other considerations that we have discussed in recent articles include the following –
Overall price
Length and terms of warranty
Whether you would like to include a pet door
Selecting a reputable, qualified and experienced supplier and installer that provides a no-obligation measure and quote
Front Door Security Screens from KNA Security
KNA Security is a fully qualified supplier and installer of the industry leading range of Invisi-Gard security screens. Servicing the northern suburbs of Perth as far as Lancelin, we have over 30 years of industry experience and a reputation that is second to none.
The range of Invisi-Gard front door security screens significantly exceed all Australian standards and are accompanied by a fifteen year warranty. They are manufactured using 316 marine grade stainless steel and available in a huge range of colours.
If you're considering a security screen for your home or business make sure you give us a call today on (08) 9561 2956 to discuss your requirements.